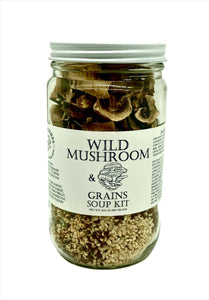 Everything you need to create a delicious & healthy Mushroom and Grain soup all in one convenient jar! Just combine the entire contents of the jar with 8 Cups of Broth or Water then bring to a boil and simmer until the grains are softened...then just serve and ENJOY! 
Makes a great gift or treat yourself! Very handy to have in the cupboard for a cool winters night when you don't feel like cooking but want something delicious, hot and wholesome to eat.
Jar yield 6 Servings.