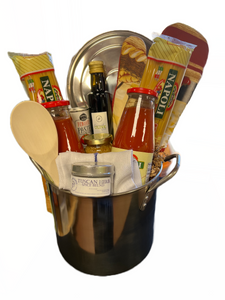 Everything you need to create a homemade, delicious Italian Tomato Marinara Sauce for your Family or Friends! Gather round the table with the ones you love and treat them and yourself to a fantastic meal made with love in your own kitchen! 
A great Housewarming Gift or Holiday Present!
Free Shipping to the Lower 48!
Included In Gift Set:
One 8qt Stainless Steel Stock Pot & Lid

One 8.5oz Bottle of Delavignes EVOO
Two Jars of Heirloom Tomato Puree
Two Cans or Tomato Paste
Two Bags of Imported Semolina Pasta
One Jar of Chopped Garlic
One Packet of Delavignes Sicilian or Tuscan Spice Blend
One Wooden Spoon
One Oven Mitt 
One Kitchen Towel