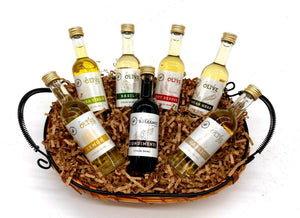 Give the gift of variety this holiday season. This basket includes a 2 oz bottle each of the Delavignes best sellers including: Extra Virgin Olive Oil, Lemon Olive Oil, Basil Olive Oil, Garlic Olive Oil, Tuscan Herb Infused Olive Oil, Hot Pepper Olive Oil, and Balsamic Condimenti Vinegar.
Want to Add a Custom Message To Your Gift Basket?
Email us at orders@shopdelavignes.com or call the store at (203) 437-8286 and we will be happy to send a hand written greeting card with your custom message at no extra cost.


*If any item is out of stock, product will be replaced with an item of equal or greater value.

**Contents may differ from those pictured.