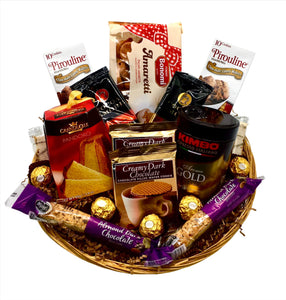 This fantastic gift basket features a vast assortment of imported goodies sure to make anyone's Brunch or Breakfast amazing! Nothing better than a strong cup of Espresso and some tasty treats to satiate even the biggest sweet tooth! Perfect basket for any Birthday, Mother's Day or really any occasion just to let someone know you're thinking of them! 
Basket includes the following: Bonomi Amaretti Cookies, Kimbo Aroma Gold Espresso, Granducale Pandoro Cake, (2) 10ct Pirouline, (2) Packets of Premium Hot Cocoa, (2) Nonni Biscotti, (2) Dark Chocolate Wafers, (2) Imported Torrone & (5) Ferrero Roche. 
Free Shipping!
*If any item is out of stock, product will be replaced with an item of equal or greater value.
 
**Contents may differ from those pictured.