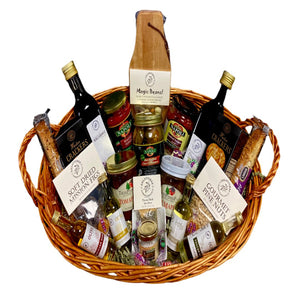 The perfect Holiday or Housewarming Gift for that Special "Foodie" in Your Life! A fantastic mix of delicious items from Italy and all over the world!
Basket Contains: Delavignes 17oz Balsamic Vinegar Condimenti, Delavignes 17oz Organic EVOO, Prosciutto & Provolone Stuffed Peppers, Sundried Tomatoes in Oil, Roasted Red Peppers, Twin Pines Tomato Jam, Twin Pines Apple Maple Jam, Delavignes 1.75oz Tuscan Oil, Sicilian Oil, Lemon Oil & Garlic Oil, Delavignes Truffle Sea Salt, Mission Figs, Gourmet Pine Nuts, Chocolate Covered Espresso Beans, Tuscan Herb Spice Mix, Water Crackers, Biscotti, Candy, Wooden Cutting Board & Ceramic Dipping Bowl*
Price Includes Free Shipping!
* In the event that an item included in the sampler isn't available at time of order, an item of equal value will be substituted.