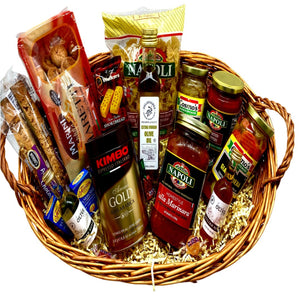 Great Hostess or Holiday Gift! Includes everything needed for a traditional Italian dinner including: an 8.5oz Delavignes EVOO, 1.75oz Delavignes Tuscan Dipping Oil, 1.7oz Delavignes Sicilian Dipping Oil, Pasta, Sauce, Marinated Eggplant, Roasted Red Peppers, Mixed Vegetable Giardiniera, Coffee, Cookies, Biscotti, and Assorted Candy.

*If any item is out of stock, product will be replaced with an item of equal or greater value.

**Contents may differ from those pictured.