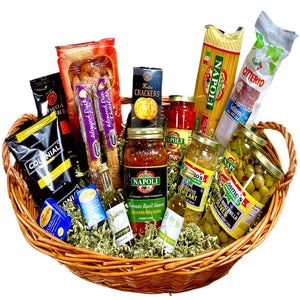 This basket includes a little of everything, some of our own private label antipasto goodies, an authentic pasta dinner and some after dinner snacks! This basket is filled with a variety of Specialty Italian treats that will make you the star of any holiday event. You or your recipient will enjoy this generous gift and you will be sampling the best that gourmet specialty foods can offer.

Basket Includes:

1lb Gourmet Spaghetti
12oz Premium Pasta Sauce
12oz Imported Olives
8oz Sliced Hot Cherry Peppers
12oz Marinated Eggplant
8oz Sweet Stuffed Peppers (Stuffed With Proscuitto & Provolone )
9oz Citterio Sopressata Chub
1.75oz Delavignes Extra Virgin Olive Oil
1.75oz Delavignes Tuscan Herb Dipping Oil
1 Bonomi Amaretti Cookies
1 Sleeve Gourmet Table Crackers
1 Cocoa Amore
2 Nonnis Biscotti
2 Imported Tarrone
1 Gourmet Coffee
Free Shipping on All Delavignes Gift Baskets Over $50.00!

*If any item is out of stock, product will be replaced with an item of equal or greater value.

**Contents may differ from those pictured.