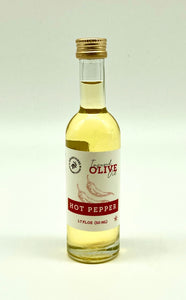 Your favorite Olive Oil with a spicy finish!
Our Hot Pepper Infused Olive Oil is made with the all natural essence of Arbol Chillies. Try some in your next batch of sauce to jazz up your favorite pasta dishes. Perfect addition to any Fra Diavalo preparation. If you're searching for something different: drizzle over popcorn then add a sprinkle of cinnamon and salt to taste.
Pairs well with our Garlic Infused Olive Oil, and our White Balsamic for a fabulous bruchetta.