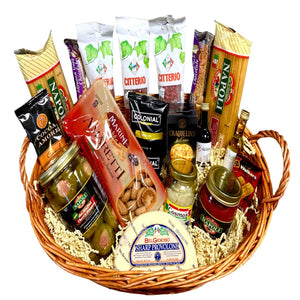 A classic offering of Italian theme treats, including prosciutto & provolone stuffed peppers, Giardinera, Sharp Provolone cheese wedge, tomato pizza sauce, Gourmet Spaghetti, Gourmet Linguini, Delavignes Extra Virgin Olive Oil, Delavignes Balsamic Vinegar Condimenti, Calabrese Sausage, Abruzzese Sausage, Gourmet Coffee Single Packet, Cocoa Amore Hot Cocoa mix, Shortbread, Lady Walton Wafer Cookie, Biscotti, Assorted Gourmet Cookies, Imported Italian Amaretti Cookies, Torrone, and Ferrero Rocher Chocolates.
Price Includes Free Shipping!

*If any item is out of stock, product will be replaced with an item of equal or greater value.

**Contents may differ from those pictured.