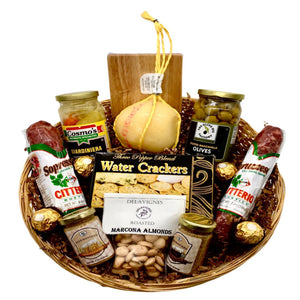 Great Hostess or Holiday Gift! Includes Belgioso Provolone, Citterio Sopressata & Apruzzesa, Mixed Vegetable Giardiniera, Stuffed Manzanilla Olives, Three Pepper Blend Water Crackers, Marcona Almonds, 2 Tasty Dipping Mustards, Cheese Board and Ferrero Rochers.
*If any item is out of stock, product will be replaced with an item of equal or greater value.
**Contents may differ from those pictured.