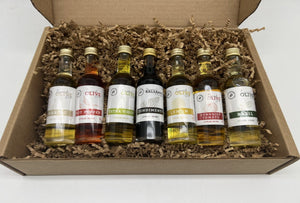 Try a variety of flavors!
A wonderful variety of our favorite oils and balsamic vinegar! Includes 1.75oz mini bottles of the following flavors: Lemon Infused Olive Oil, Basil Infused Olive Oil, Extra Virgin Olive Oil, Garlic Infused Olive Oil, Hot Pepper Infused Olive Oil, Regional Extra Virgin Olive Oil, and Balsamic Condimenti.

*If any item is out of stock, product will be replaced with an item of equal or greater value.

**Contents may differ from those pictured.